Things to Do in the City of Colleges
Discover the Charming and Vibrant Community of Conway
Located just 30 miles north of Little Rock, Conway offers visitors a unique blend of southern hospitality, natural beauty, and exciting activities. From outdoor adventures to cultural experiences, Conway has something for everyone!
Give Your Family a Day to Remember
Conway is full of endless opportunities for family-friendly fun. Here are just a few things you can do during your visit:
Visit Cadron Settlement Park
This historic park offers a glimpse into Arkansas's past, with reconstructed log cabins, a schoolhouse, and a blacksmith shop. Kids can see what life was like for early settlers in the area and learn about local history.
This city park is a great place for families to spend an afternoon. It has a playground, a splash pad, tennis courts, and even WiFi, making it the perfect place for an afternoon of outdoor studying or relaxing.
This beautiful lake is a popular spot for fishing, boating, and picnicking. There are also walking trails around the lake, making it a great place for a family hike.
Go Shopping & Dining in Downtown Conway
Downtown Conway is a charming area with unique shops, restaurants, and cafes. Families can stroll through the area, sample local cuisine, and pick up souvenirs to take home.
Go Bowling at Conway Family Bowl
Families can enjoy a few games of bowling, grab a bite to eat at the snack bar, and even participate in cosmic bowling, which features black lights, music, and a party atmosphere. With its family-friendly environment and wide range of activities, Conway Family Bowl is a must-visit destination for families looking for a fun and memorable day out.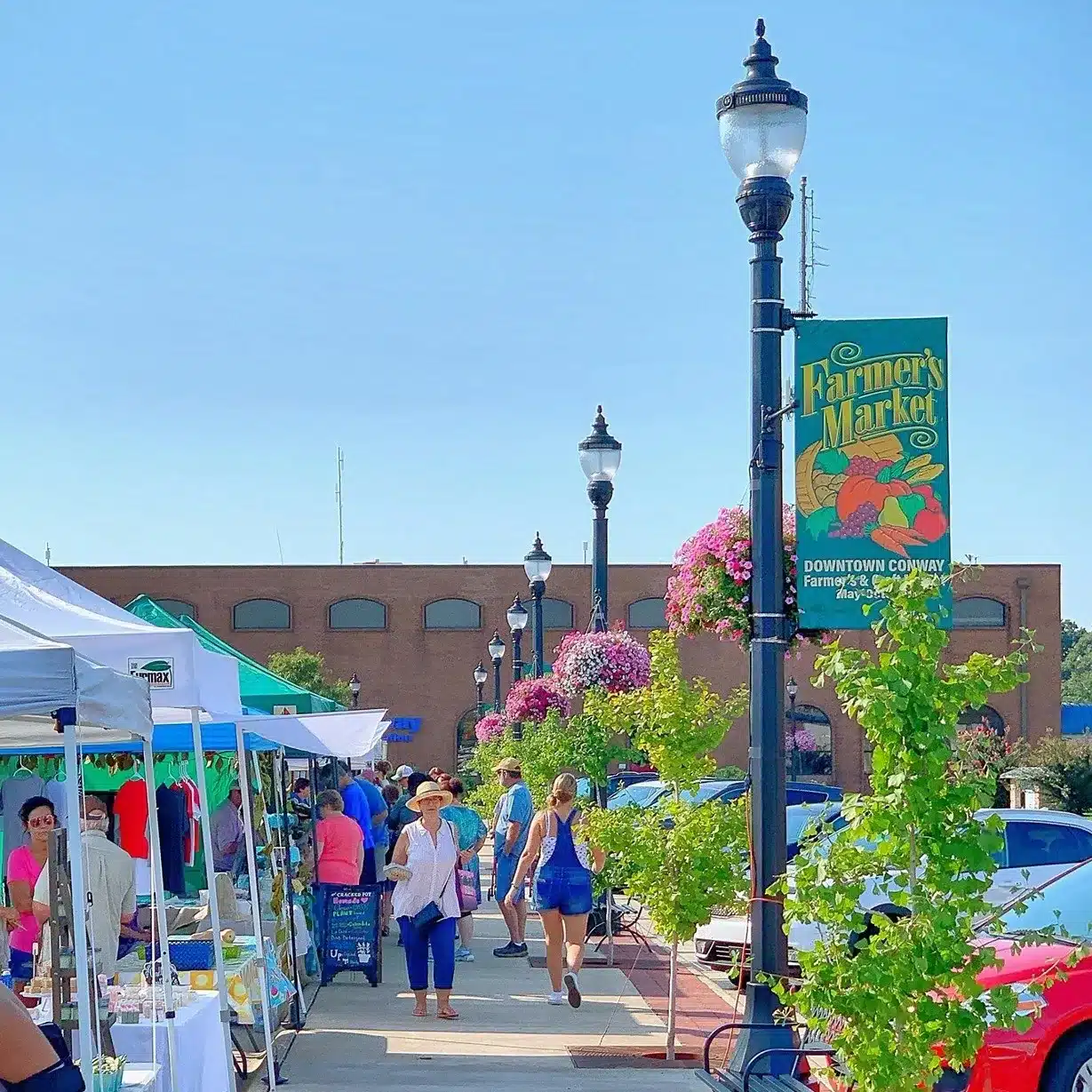 Visit the Conway Downtown Farmer's Market
This farmer's market offers fresh produce, baked goods, and crafts from local vendors. It's a great way to support the local community and enjoy some fresh food.
See a Show at Reynolds Performance Hall
Reynolds Performance Hall is an amazing venue located on the University of Central Arkansas campus that offers a variety of performances throughout the year. It's a great place for families to visit and enjoy performances such as plays, musicals, concerts, and dance shows.
Visiting Conway is an enjoyable experience for people of all ages. Our charming city in the heart of Faulkner County boasts a wide range of activities, events, and attractions that are sure to delight visitors. With a rich history, diverse economy, and friendly community spirit, our town is sure to capture your heart and leave you with memories that will last a lifetime.
Conway is a great place to visit year-round, but the best time to visit depends on your personal preference. If you're looking for outdoor activities, spring and fall are beautiful times to visit with the turning leaves or the spring blooms. Summers feature a host of fun events, like Toad Suck Daze and Freedom Fest. Winter can be chilly but offers holiday events and attractions.
Most activities, like visiting any of the state or local parks, are free, while others may have a small fee.
Conway offers a variety of lodging options, including hotels, bed & breakfasts, and vacation rentals.
Start Making Memories in Conway!
Don't miss out on the chance to experience the best of Conway. Plan your trip today!